PCB Board & PCB Assembly for Industrial Control
Industrial Control PCB Board is a popular technology used in a variety of industrial control applications. If you're looking for high quality industrial control PCB boards or PCB assembly, Hitech Circuits is the place to go, please contact [email protected] for tailored solution.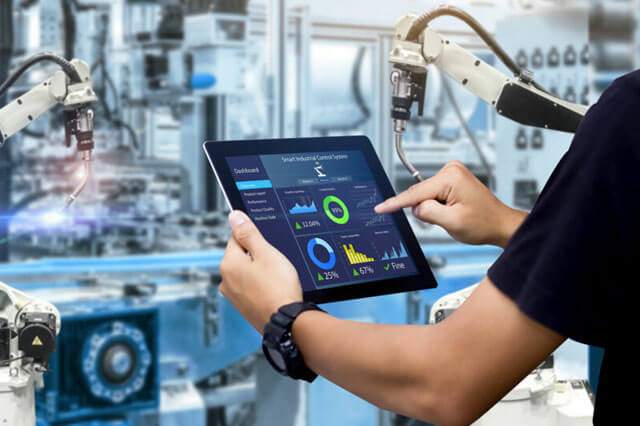 Why PCB board used in industrial control industry
The industrial control industry uses PCB boards to perform a variety of tasks. These boards allow for the measurement and management of various variables in an assembly line. In these applications, the board is essential because it organizes electrical circuits in a compact manner, supports the flow of current within an instrument, and improves its operational value. This enables manufacturers to get more accurate measurement of physical quantities.
The board is typically made of two materials: a non-conductive base and copper traces and pads. These copper traces and pads serve as interconnects between electronic components. The PCB may be single-sided, double-sided, or multi-layered. Single-sided boards have copper traces on only one side, while double-sided boards have copper traces and pads on both sides.
PCB board applications in industrial control
Industrial control and automation devices use PCB boards for a variety of different functions. Whether it's monitoring heart rate or glucose levels, or running a compressor, PCBs are essential for efficient and reliable operation. These boards are highly specialized and must meet strict specifications for hygiene and safety. Moreover, they must be small and flexible, which is essential for many medical applications.
Industrial control equipment also includes devices that measure and manage a variety of physical quantities, such as pressure, temperature, and humidity. Printed circuit boards can help enhance the operational value of such instruments by compactly arranging electrical circuits inside the equipment. This allows instruments to be more accurate and reliable.
Factors to consider when designing industrial control PCB board
One of the main aspects to consider when designing industrial control PCB boards is the placement of components. This will directly affect the performance of the board and can influence the final result. Poor placement of components can cause long-term reliability issues and affect the device's performance. As a result, engineers must be extremely careful when placing components. Typically, engineers should leave about 100 mils of space between the board edge and the electronic component.
Another factor to consider when designing industrial control PCB boards is the PCB manufacturing process. This will ensure that the board layout matches the physical dimensions of the board and the mounting holes. You must also keep in mind any height restrictions or other restrictions, as well as the type of assembly that will be performed. You should also take into account the noise and shielding requirements for the board. You should also consider the width of the PCB, as well as the spacing of the individual traces.
Choosing the right materials is another important factor to consider when designing industrial control PCB boards. Depending on the reliability level of the board, you need to select materials that can withstand the operating environment. This will also affect the cost.
How to find reliable industrial control PCB Assembly Company
If you're looking to outsource your PCBA projects, you should look for a company that can provide quality PCBs at competitive prices. Look for companies that have experience with similar projects and are willing to provide references and certifications. You'll also want a company that can handle your PCB assembly requirements with a team of skilled workers.
Choosing a company with a single point of contact will also streamline communication. Also, make sure that the project management process is straightforward, and that the company is able to respond to any questions or concerns you may have.
You can also find a PCB assembly company that offers quality testing services throughout the project. This will ensure that your boards work as intended and are as close to defect-free as possible. Choosing high-quality components will also reduce costs in the long run, since you'll have fewer failures.
The time it takes to complete your PCB assembly project is critical. You need to have it completed as quickly as possible to maximize your profit and minimize expenses. Rushing the process can cause delays and will also increase costs. Make sure you choose a company that will work with you to finish your project on time.
Starting your next industrial control PCB project at Hitech Circuits
If you're interested in high quality industrial control PCB boards, Hitech Circuits is the place to go. The company has been providing electronics manufacturing services in China for more than 15 years, and our PCB boards are renowned for their outstanding quality. We specialize in the fabrication of both single-sided and dual-sided printed circuit boards, and offer one-stop PCB assembly services.
Hitechcircuits' process begins with a file sent by the customer. Once we have it, engineers at the company review the file for manufacturability and use the right technologies to make the PCB board and PCB assembly project for industrial control.